Current processing times as of May 2020
Orders with 1 thickness and 1 material: Ships 4-8 business days after being ordered.
Orders with different thicknesses and/or materials: Ships 8-14 business days after being ordered.
Please note that business days are Monday to Friday. Federal holidays are not counted as a business day.
Larger orders (25 items or more) may require additional processing time. Please contact us prior to ordering to ensure we can get the order done in time or if rush processing will be needed.
This map shows estimated arrival times AFTER we ship your order.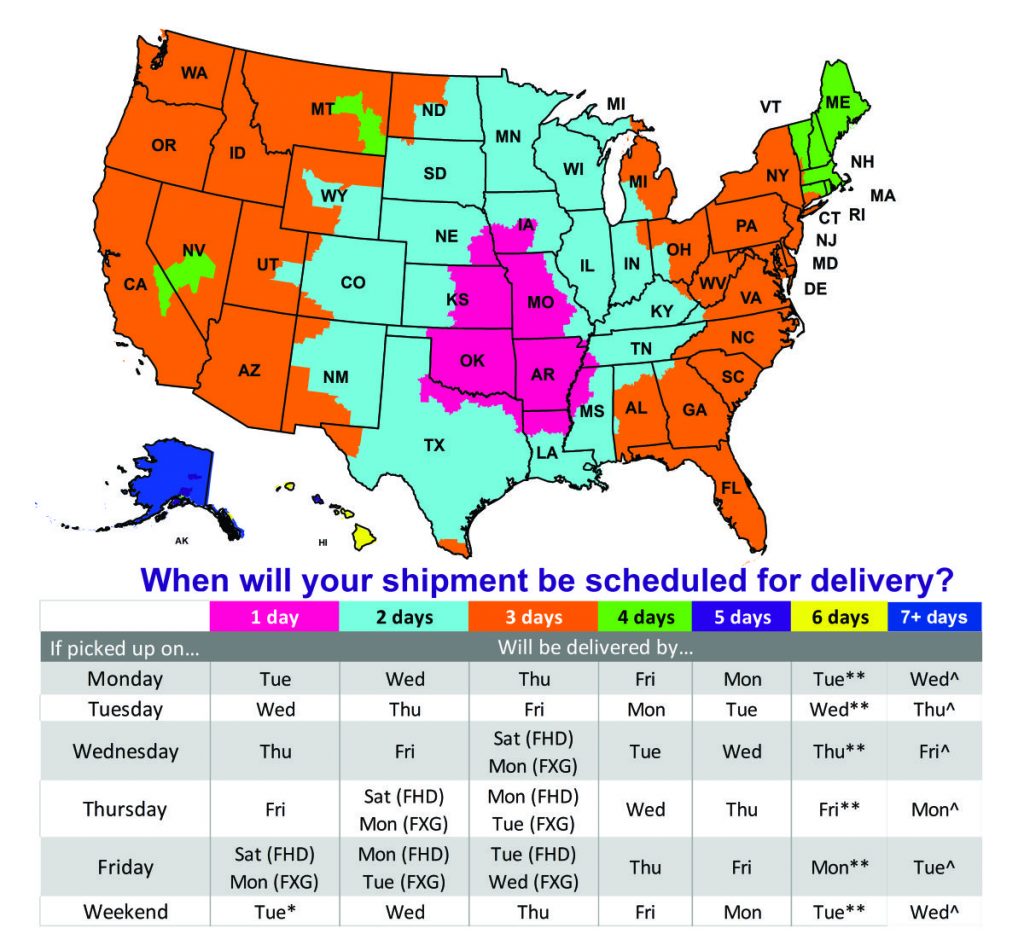 Shipping Costs
The contiguous USA is only $9.95 per order!

Rush Processing – We will ship your order within a defined time frame.
4 Day Processing – If you order on Monday, it will ship on Friday.
2 Day Processing – If you order on Monday, it will ship on Wednesday.
We only guarantee the order will ship out on time. If we miss the deadline, we will refund the rush processing minus regular shipping charges. The time frame does not include Saturday, Sunday and Federal holidays.
Please note that the rush processing only covers ground shipping. We can also expedite the shipping for an additional charge.
| | | |
| --- | --- | --- |
| Order Amount | 4 Day Processing | 2 Day Processing |
| $0.01 – $250.00 | $34.95 | $85.00 |
| $250.01 – $500.00 | $59.95 | $160.00 |
| $500.01 -$750.00 | $84.95 | $235.00 |
| $750.01 – $1000.00 | $109.95 | $310.00 |
| $1001.01 – $1250.00 | $134.95 | $385.00 |
| $1250.01 – $1500.00 | $159.95 | $460.00 |
| $1500.01 – $1750.00 | 209.95 | $610.00 |
| $1750.01 – $2000.00 | $234.95 | $685.00 |
| $2000.01+ | $259.95 | $760.00 |
Delivery Information
– We ship orders UPS, FedEx and USPS Priority Mail (our choice depending on the size). We do offer rush shipping for an additional charge.
– We must have the complete delivery address. This includes Street, Ave. , Apartment Number etc. If we cannot get this information, we will require payment of $13.50 for address correction from UPS and FedEx.
---
Returns and Refunds
Defective products replacement
If you receive a defective product from us, we will replace the defective piece at our cost. If you happen to receive a package with defective or missing/broken parts, please email us immediately with your order number, product description and what the issue is. We may replace, refund or credit your account for your order at our discretion. We must be notified within 7 days or receipt of the order. If we are notified after 7 days of delivery, we reserve the right to refuse replacement, refund or an account credit.
Please note:  Our wood craft products may have an oval "patch" on the face, small knots, holes (missing knots), mineral streaks and chip outs on the back. These areas on the front will be filled with wood putty to allow for painting a smooth surface. This is not a defect. The areas on the back may not be filled.
---
Non-defective products returns
If you order incorrectly or decide you do not want the product, you can email us for a Return Merchandise Authorization (RMA). Once we receive the returned products, we will issue a refund for 50% of the order subtotal (does not including shipping). Orders returned without the RMA number or after 10 days of the RMA being issued, we will refuse the package and send it back to you. We do not offer exchanges.
---
Order Cancellations
If you must cancel your order, we will be more than happy to work you, as long as the order has not been started. If the order has been started, there will be an order cancellation fee. The cancellation fee depends on where the order is at in our system. This fee will range from 10% to 50% of the order subtotal.
If you notice an error on your order, please contact us immediately so we may fix the issue.